PORTFOLIO > LANDCSAPE CENTER
The Landscape center is conveniently located off route 61 in Orwigsburg, PA.
We carry many varieties of plants, shrubs and trees. Stop by and walk through our beautiful and lushful grounds. We are open seasonally from March through November.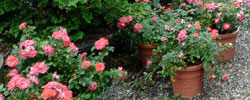 Products:
• Trees, shrubs and perennials specializing in Sculptured plants
• Stone, Pavers and Flagstone
• Scuptures of Stone and Steel
• Organic Fertilizer
• Pottery
• Japenese Maples
• Conifers
Directions:
1/4 mile South of the Red Church on Route 61 - Northbound Lane, next to Russo's Pizza
Hours:
OPEN WEEKENDS:
Saturday: 8:00 am to 5:00 pm
Sunday: 10:00 am to 5:00 pm
During the week - call Tim at 570-617-2200
Come wander and browse. Please feel free to check out our plants.